2017 League is Underway!
2017 Monday Night Men's League is underway!    Get results here ALL season!!
Here is the information on our Monday Night Men's League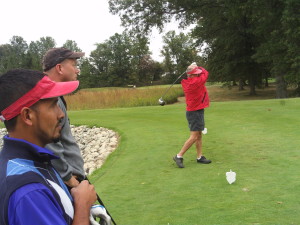 2 Man teams play stroke play with handicap
Entry $35
League runs from mid April – Sept
Prizes and year end party included in entry
Optional Skins Nightly
Don't miss the action click here and fill out the form or call the Pro Shop to get on the waiting list for 2018!
Final 2017 Standings
Rpt#3B1 2017 Oaks 2 Man 09/19/17
Page: 1 TEAM STANDINGS – EVENTS 1 to 20
================================================================================
**EVT#21** | LAST EVENT 20 09/18/17
PLAYER PLAY | ********PLAYER********** **TEAM**
PS TM PLAYER POINTS HNDCP TEAM | GRS NET PTS P B E PUTT POINTS
== == ================= ====== ===== ==== | === === ===== = = = ==== ======
1 6 Ehle, Ken 138.00 4 17 | 41 36 8.00 4 3.00
Heemsoth, Mike 159.00 9 | 48 38 5.50 1
Total Pts:353.50 Team Pts:39.00 Player Pts:297.00 Sub Pts:17.50
——————————————————————————–
2 9 Green, Bobby 143.50 8 14 | 47 38 4.00 1
Renner, Todd 152.50 10 | 51 41 3.50
Total Pts:345.50 Team Pts:36.00 Player Pts:296.00 Sub Pts:13.50
——————————————————————————–
3 5 Kanalos, Marc 172.50 2 18 | 38 35 14.00 8 3.00
Chandler, Mark 102.00 12 | 53 42 5.00 2
Total Pts:343.00 Team Pts:31.50 Player Pts:274.50 Sub Pts:37.00
——————————————————————————–
4 18 Payne, Gary 150.00 2 5 | Sub# 7 0.00 1.50
Simmons, Dave 126.50 11 | 51 39 3.50 1
Total Pts:341.50 Team Pts:34.50 Player Pts:276.50 Sub Pts:30.50
——————————————————————————–
5 1 Anderson, Dwayne 139.50 8 22 | 44 35 12.00 3 3.00
Wolf, Mike 116.50 9 | Sub#12 0.00
Total Pts:340.00 Team Pts:31.50 Player Pts:256.00 Sub Pts:52.50
——————————————————————————–
6 7 Faus, Ken 158.00 6 16 | 45 38 3.50 1 1 1.50
Love, Dennis 136.00 8 | Sub# 6 0.00
Total Pts:338.50 Team Pts:36.00 Player Pts:294.00 Sub Pts:8.50
——————————————————————————–
7 15 Riley, Mike 36.50 2 8 | 42 39 5.50 3 3.00
Lothamer, Jeff 138.50 3 | Sub#24 0.00
Total Pts:331.50 Team Pts:33.00 Player Pts:175.00 Sub Pts:123.50
——————————————————————————–
8 3 Beard, Ben 121.50 8 20 | 48 40 3.00 4
DeLarosa, Joe 150.00 11 | 53 42 2.50 1
Total Pts:325.00 Team Pts:33.00 Player Pts:271.50 Sub Pts:20.50
——————————————————————————–
9 20 Snellenberger, Da 145.50 10 3 | 49 38 5.50 3.00
Thomas, Jim 143.50 10 | 47 34 12.00 1
Total Pts:322.00 Team Pts:33.00 Player Pts:289.00
——————————————————————————–
10 12 Gottwald, Brian 143.50 3 11 | Ghst#1 0.00
Zimmerman, Dwayne 125.00 7 | Ghst#1 0.00
Total Pts:320.00 Team Pts:34.50 Player Pts:268.50 Sub Pts:17.00
——————————————————————————–
11 22 Bean, Ron 137.50 8 1 | 52 43 3.50
Bean, Jason 142.00 8 | 51 42 2.00 1
Total Pts:311.00 Team Pts:31.50 Player Pts:279.50
——————————————————————————–
12 16 Luebbert, Curt 157.50 6 7 | 39 32 14.50 6 3.00
Sarrazine, Joe 113.50 12 | 51 38 7.00 1
Total Pts:310.00 Team Pts:39.00 Player Pts:271.00
——————————————————————————–
13 13 Szobody, Jim 74.50 4 10 | 48 44 3.50 2
Hoevel, Ryan 147.00 6 | 46 39 3.00 1
Total Pts:309.50 Team Pts:30.00 Player Pts:221.50 Sub Pts:58.00
——————————————————————————–
14 21 Young, Dave 138.50 10 2 | 48 38 7.00 1 3.00
Taylor, Tom 109.50 13 | 58 45 5.00
Total Pts:304.50 Team Pts:30.00 Player Pts:248.00 Sub Pts:26.50
——————————————————————————–
15 19 Schultz, Ryan 152.50 2 4 | 37 35 14.50 6 1 3.00
Rowland, Tim 114.00 12 | Ghst#1 0.00
Total Pts:292.00 Team Pts:25.50 Player Pts:266.50
——————————————————————————–
16 4 Bevineau, Mark 129.00 7 19 | Ghst#1 0.00
Garcia, Esteban 108.50 13 | Ghst#1 0.00
Total Pts:291.50 Team Pts:39.00 Player Pts:237.50 Sub Pts:15.00
——————————————————————————–
17 14 Simmons, Jeremy 124.00 6 9 | Ghst#1 0.00
Lock, Adam 122.50 7 | Ghst#1 0.00
Total Pts:284.00 Team Pts:33.00 Player Pts:246.50 Sub Pts:4.50
——————————————————————————–
18 11 Williams, Dean 144.50 6 12 | Ghst#1 0.00
Goodrich, Scott 106.50 13 | 59 45 4.00
Total Pts:280.50 Team Pts:21.00 Player Pts:251.00 Sub Pts:8.50
——————————————————————————–
19 2 Arriaga, Shawn 114.00 8 21 | 44 34 13.50 2 1 3.00
Arriaga, Jason 114.00 9 | 44 34 14.50 2
Total Pts:271.50 Team Pts:27.00 Player Pts:228.00 Sub Pts:16.50
——————————————————————————–
20 17 Schultz, Brandon 124.00 7 6 | Ghst#1 0.00
Marthinsky, Steve 54.00 17 | Ghst#1 0.00
Total Pts:204.00 Team Pts:12.00 Player Pts:178.00 Sub Pts:14.00
——————————————————————————–
21 8 Oldakowski, Don 87.50 15 15 | Ghst#1 0.00 1.50
Gilbert, Dave 27.00 18 | Ghst#1 0.00
Total Pts:150.50 Team Pts:13.50 Player Pts:114.50 Sub Pts:22.50
——————————————————————————–
22 10 Bickle, Matt 59.50 10 13 | Ghst#1 0.00 1.50
Floyd, Joe 59.00 11 | Ghst#1 0.00
Total Pts:132.00 Team Pts:13.50 Player Pts:118.50
——————————————————————————–
********************************* SUBSTITUTES **********************************
SB6 Wynn, Kim 61.00 6 | 43 36 8.50 4 On Team 7
SB7 Christenson, Jason 78.50 6 | 42 35 11.50 4 On Team 18
SB12 Humphres, Justin 52.50 2 | 37 35 12.50 6 1 On Team 1
SB24 Joseph, Jim 13.00 0 | 35 35 13.00 5 1 1 On Team 15
Page: 1 NET SKINS FOR EVENT 20 – 09/18/17 Flight ALL-NO strokes on 3s
================================================================================
Colonial Oaks Men W/W HOLE: 10 11 12 13 14 15 16 17 18
W-PAR: 4 4 5 3 5 4 4 3 4 NET
PS PLAYER W-PAR: 4 4 5 3 5 4 4 3 4 SCORE HDCP POINTS
== ========================= ========================== ===== ==== ======
1 Joseph, Jim 5 4 3 4 5 4 4 3 3 35 0 13.00
2 Humphres, Justin 3 3 5 4 5 4 4 3 4 35 2 12.50
3 Kanalos, Marc 3 3 4 3 7 4 4 3 4 35 3 14.00
4 Ehle, Ken 4 4 5 4 4 5 4 3 3 36 5 8.00
5 Riley, Mike 3 4 4 4 6 4 5 4 5 39 3 5.50
6 Anderson, Dwayne 3 5 5 3 5 4 4 3 5 35 9 12.00
6 Arriaga, Jason 4 3 4 4 5 5 4 3 4 34 10 14.50
8 Faus, Ken 4 6 5 3 *3 4 4 4 5 38 7 3.50
9 Hoevel, Ryan 4 4 6 4 5 4 4 3 5 39 7 3.00
10 Green, Bobby 5 4 5 3 5 4 5 4 5 38 9 4.00
10 Thomas, Jim *2 4 5 4 6 4 4 4 3 34 13 12.00
12 Young, Dave 3 5 4 4 5 5 6 4 4 38 10 7.00
12 Beard, Ben 3 8 6 3 4 5 5 4 3 40 8 3.00
12 Heemsoth, Mike 4 4 4 5 6 5 3 4 5 38 10 5.50
12 Szobody, Jim 5 6 5 5 6 4 4 4 5 44 4 3.50
16 Snellenberger, Dave 4 3 6 4 6 5 4 4 4 38 11 5.50
17 Sarrazine, Joe 3 5 6 5 4 4 4 5 4 38 13 7.00
17 Renner, Todd 4 5 4 4 7 4 5 5 5 41 10 3.50
17 Simmons, Dave 4 4 4 4 7 5 3 4 6 39 12 3.50
20 Bean, Ron 5 4 6 5 5 6 4 5 5 43 9 3.50
21 Chandler, Mark 5 5 3 5 5 6 3 5 7 42 11 5.00
21 DeLarosa, Joe 6 4 5 3 5 6 4 5 6 42 11 2.50
23 Taylor, Tom 4 5 8 6 5 5 5 5 4 45 13 5.00
SKINS HOLE SCORE
========================= ==== =====
Thomas, Jim 10 2
Faus, Ken     14 3