Final Standings 2019
FINAL TEAM STANDINGS 
================================================================================ | LAST EVENT 20 09/16/19
PLAYER PLAY | ********PLAYER********** **TEAM**
PS TM PLAYER POINTS HNDCP TEAM | GRS NET PTS P B E PUTT POINTS
== == ================= ====== ===== ==== | === === ===== = = = ==== ======
1 9 Whitman, Travis 174.00 0 13 | 34 34 11.50 4 2 1 3.00
Payne, Gary 184.50 3 | 38 36 6.00 4 1
Total Pts:432.50 Team Pts:49.50 Player Pts:358.50 Sub Pts:24.50
——————————————————————————–
2 5 Faus, Ken 155.50 5 2 | 44 39 3.50 2
Love, Dennis 146.50 12 | Sub# 8 0.00
Total Pts:380.00 Team Pts:36.00 Player Pts:302.00 Sub Pts:42.00
——————————————————————————–
3 14 Schultz, Ryan 155.50 0 8 | 34 34 11.00 8 1 3.00
Riley, Pat 124.50 5 | 38 32 11.50 5 1
Total Pts:373.50 Team Pts:34.50 Player Pts:280.00 Sub Pts:59.00
——————————————————————————–
4 2 Beard, Ben 114.00 7 5 | 43 38 4.00 3 3.00
Delarosa, Joe 144.50 10 | 43 33 13.00 3
Total Pts:358.50 Team Pts:34.50 Player Pts:258.50 Sub Pts:65.50
——————————————————————————–
5 8 Simmons, Jeremy 142.00 3 14 | 37 35 7.00 5 1
Simmons, Dave 149.50 10 | 45 36 3.50 1
Total Pts:357.00 Team Pts:39.00 Player Pts:291.50 Sub Pts:26.50
——————————————————————————–
6 4 Anderson, Dwayne 116.00 6 3 | 41 35 7.00 5
Wolf, Mike 145.00 7 | 40 34 10.50 4
Total Pts:339.50 Team Pts:33.00 Player Pts:261.00 Sub Pts:45.50
——————————————————————————–
7 1 Kanalos, Marc 155.00 1 6 | 35 34 11.00 7 1 3.00
Sorg, Ty 146.00 4 | 38 34 10.50 4 1
Total Pts:338.50 Team Pts:37.50 Player Pts:301.00
——————————————————————————–
8 7 Hoevel, Ryan 126.50 5 15 | Sub# 9 0.00
Szobody, Jim 107.00 6 | 46 41 2.00
Total Pts:335.50 Team Pts:34.50 Player Pts:233.50 Sub Pts:67.50
——————————————————————————–
9 6 Renner, Todd 122.50 6 1 | 50 45 2.00 1
Green, Bobby 122.50 10 | 44 35 9.00 2
Total Pts:295.00 Team Pts:31.50 Player Pts:245.00 Sub Pts:18.50
——————————————————————————–
10 12 Huffman, Blake 136.00 4 10 | 39 36 7.00 5 3.00
Hagenbush, Mike 103.50 13 | 50 38 3.00 2
Total Pts:279.50 Team Pts:30.00 Player Pts:239.50 Sub Pts:10.00
——————————————————————————–
11 13 Seitz, Andy 134.00 2 9 | 36 34 11.00 6 1 3.50
Lamb, Joel 99.00 13 | Ghst#1 0.00
Total Pts:269.50 Team Pts:36.50 Player Pts:233.00
——————————————————————————–
12 3 Gamby, Ross 159.50 4 4 | 40 37 4.00 2 2 3.00
Rasburg, Joe 35.50 12 | 49 40 5.50 2
Total Pts:267.50 Team Pts:30.50 Player Pts:211.00 Sub Pts:26.00
——————————————————————————–
13 15 Couchman, James 102.50 8 7 | 46 39 2.50 1
Newberry, Joe 91.00 10 | 50 41 2.50 1
Total Pts:227.50 Team Pts:27.00 Player Pts:193.50 Sub Pts:7.00
——————————————————————————–
14 11 Garman, Larry 100.50 8 16 | 43 35 9.50 2 3.00
Weston, Matt 99.50 9 | 43 35 9.50 2
Total Pts:226.50 Team Pts:26.50 Player Pts:200.00
——————————————————————————–
15 10 Niezer, Brad 115.00 8 12 | 48 41 5.50 1 3.00
P., Chant 89.00 12 | 48 38 7.00
Total Pts:220.50 Team Pts:16.50 Player Pts:204.00
——————————————————————————–
16 16 Draw, Blind 94.00 4 11 | Ghst#1 0.00 5.50
Draw, Blind 83.00 11 | Ghst#1 0.00
Total Pts:200.00 Team Pts:23.00 Player Pts:177.00
——————————————————————————–
SKINS HOLE SCORE
========================= ==== =====
Weston, Matt 2 3
Delarosa, Joe 4 3
Sorg, Ty 5 3
FINAL TEAM STANDINGS 
================================================================================ | LAST EVENT 20 09/16/19
PLAYER PLAY | ********PLAYER********** **TEAM**
PS TM PLAYER POINTS HNDCP TEAM | GRS NET PTS P B E PUTT POINTS
== == ================= ====== ===== ==== | === === ===== = = = ==== ======
1 3 DeCook, Gordy 119.00 4 4 | 39 33 12.50 3 2 3.00
Ehle, Ken 162.00 6 | 40 33 11.50 3 1
Total Pts:369.00 Team Pts:42.00 Player Pts:281.00 Sub Pts:46.00
——————————————————————————–
2 8 Marschand, Dave 162.50 8 14 | 45 36 9.50 4 3.00
Escobedo, Danny 125.50 9 | 51 41 5.50 1
Total Pts:366.50 Team Pts:43.50 Player Pts:288.00 Sub Pts:35.00
——————————————————————————–
3 10 Snellenberger, Da 158.00 5 12 | 48 43 2.50 2
Thomas, Jim 159.00 10 | 52 42 3.50 1
Total Pts:354.50 Team Pts:37.50 Player Pts:317.00
——————————————————————————–
4 12 Young, Dave 173.00 8 10 | 43 35 12.50 3 3.00
Taylor, Tom 138.00 12 | 52 39 5.00 1
Total Pts:353.00 Team Pts:42.00 Player Pts:311.00
——————————————————————————–
5 6 Finton, Jim 162.00 12 1 | 52 39 2.50
Finton, Ray 126.50 14 | 52 37 3.50
Total Pts:340.00 Team Pts:36.00 Player Pts:288.50 Sub Pts:15.50
——————————————————————————–
6 4 Webb, Tim 137.00 7 3 | 49 42 2.50
Hartman, Bill 102.50 11 | 56 44 4.00 2
Total Pts:316.00 Team Pts:39.50 Player Pts:239.50 Sub Pts:37.00
——————————————————————————–
7 15 Booker, WalterLee 117.50 6 7 | 44 39 6.50 2 1 3.00
Vongphachanh, Noy 127.50 6 | 44 38 7.00 3
Total Pts:305.00 Team Pts:30.00 Player Pts:245.00 Sub Pts:30.00
——————————————————————————–
8 13 Armstrong, BJ 118.00 5 9 | Ghst#1 0.00 4.50
Osterhout, Chris 120.00 5 | Ghst#1 0.00
Total Pts:299.00 Team Pts:33.00 Player Pts:238.00 Sub Pts:28.00
——————————————————————————–
9 14 Tucker, Brandon 138.50 5 8 | 39 33 13.00 6 3.00
Badillo, Donavan 120.00 14 | 50 34 12.00
Total Pts:278.00 Team Pts:19.50 Player Pts:258.50
——————————————————————————–
9 16 Luebbert, Curt 123.50 6 11 | 46 40 5.00 1 3.00
Sarrazine, Joe 126.00 9 | 46 36 8.00 2
Total Pts:278.00 Team Pts:25.00 Player Pts:249.50 Sub Pts:3.50
——————————————————————————–
11 5 Williams, Dean 154.00 5 2 | 43 38 7.00 4 3.00
Goodrich, Scott 89.50 15 | 54 39 7.00
Total Pts:274.00 Team Pts:30.50 Player Pts:243.50
——————————————————————————–
11 2 Bean, Ron 141.00 9 5 | 50 41 4.00
Bean, Jason 107.50 10 | 50 40 4.00 1
Total Pts:274.00 Team Pts:25.50 Player Pts:248.50
——————————————————————————–
13 11 Baughman, Trevor 137.00 10 16 | Ghst#1 0.00 4.00
Hale, Gary 91.50 16 | Ghst#1 0.00
Total Pts:264.00 Team Pts:35.50 Player Pts:228.50
——————————————————————————–
14 9 Hagan, Tim 98.50 9 13 | 45 34 12.50 3 3.00
Day, Brian 112.00 12 | 49 36 8.00 1
Total Pts:259.00 Team Pts:22.50 Player Pts:210.50 Sub Pts:26.00
——————————————————————————–
15 7 Zimmerman, Dwayne 136.00 6 15 | 45 39 2.00 2
Yarman, Ray 89.50 9 | 51 42 3.00 2
Total Pts:257.50 Team Pts:31.00 Player Pts:225.50 Sub Pts:1.00
——————————————————————————–
16 1 Arriaga, Jason 107.50 6 6 | 49 43 2.50 2
Arriaga, Shawn 109.00 8 | 47 39 4.00 3
Total Pts:240.50 Team Pts:24.00 Player Pts:216.50
——————————————————————————–
SKINS HOLE SCORE
========================= ==== =====
Ehle, Ken 13 2
Taylor, Tom 18 2
================================================================
Missed out and want to play in 2020?  Call 489-5121 or hit the link below and fill out the form!
Here is the information on our Monday Night Men's League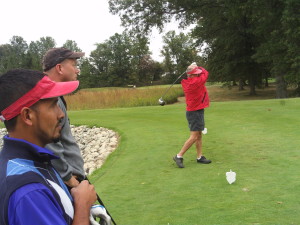 2 Man teams play stroke play with handicap
Entry $35
League runs from mid April – Sept
Prizes and year end party included in entry
Optional Skins Nightly
Don't miss the action click here and fill out the form or call the Pro Shop to get on the waiting list for 2020!